The Wyoming USA Symposium:
Building 21st Century Learning Skills through Music, Civic Engagement, and Service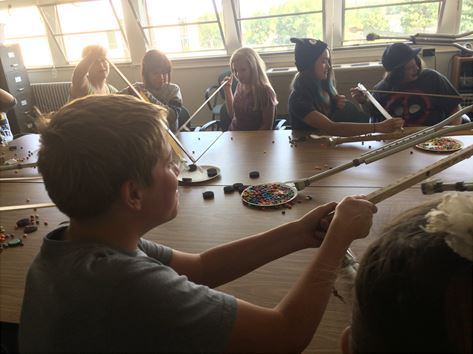 Service-Learning: Challenging Students Beyond the Classroom
Trista Ostrom
Executive Director of the Wyoming Congressional Award for Youth; Albany County School District Students
We hope to establish community within our classrooms by creating a connection between the environment of the classroom and the outside community in which students live. We have expectations of our students as they enter the world in terms of service; however, we are not preparing students in the classroom to be contributing members of society. Through service-learning, students have the unique opportunity to build critical thinking skills and the value of teamwork. Students who participate in service learning demonstrate increased social and civic responsibility in addition to academic achievement. Thus, this professional development opportunity elaborates on the incorporation of service learning in the classroom to prepare students to contribute to the world in which they live. Furthermore, educators learn how to utilize community connections to complete successful service learning projects.
Integrated Project-Based Learning to Fuel Civic Engagement: the Ultimate in Student Challenge
Meredith McLaughlin
Lead Teacher at the University of Wyoming Lab School; Albany County School District Students
Laboratory schools in America were initially conceptualized by John Dewey in the late 1800s as places for children to explore how "life itself . . . should furnish the ground experience for the education of children" and how the freedom of a child to express action contributes to "satisfaction and emotional stability" (Mayhew and Edwards, 1936). The University of Wyoming Lab School maintains this initial vision over 100 years later and serves as a founding member of the National League of Democratic Schools, whose express purpose is to use a variety of approaches to engage and prepare students for participation in civic society (Goodlad, 2004). As a Lab School, mentor teachers, pre-service teachers and students learn together how to use school as a platform for building a better word. Students and educators alike will present exemplary projects in civic engagement and how those projects have catapulted them to higher levels of performance in math, reading, writing, social studies, and a full range of the P21's Framework for 21t Century Learning Skills. Specific materials shared will include: templates for unit and lesson design that are aligned to national standards and involve learners of all ability levels in project-based civic engagement, strategies for managing effective collaborative work, and assessment techniques used to further student learning.
Developing Everyday Musicians: How Music education in the United States fits 21st Century Learning Needs
Chris Olson
Music Educator in Albany County School District #1; Albany County School District Students
This workshop will examine the unique approach to music education in the United States: Marching Bands, Concert Bands, Jazz Bands, Choirs, and Orchestras. Students will demonstrate how critical, scientific, reflective, metacognitive, and creative thinking are combined to create the unique human product of a performing ensemble. We will discuss the neurobiology of the brain and how it is affected by playing a musical instrument. We will also explore character education and leadership development as it occurs within this structure.