An Innovative Pedagogy whereby Performing and Audio-Visual Media Play a Key Role in Teaching and Learning
Creating Media Projects that Matter
Moderator: Maher Bahloul
Presenters: Maher Bahloul; Nikos Theodosakis
---
Abstract (1):
An Innovative Pedagogy whereby Performing and Audio-Visual Media Play a Key Role in Teaching and Learning
The presentation is about an innovative pedagogy whereby performing and audio-visual media play a key role in teaching and learning. On the basis of my latest book 'Lights! Camera! Action and the brain: The Use of Film in Education', the presentation combines theory and practice; as such, it lays solid neurological foundations for media literacy and provides several practical applications from worldwide scholars. The book contains thirteen chapters three of them address a number of theoretical issues related to the camera and the brain while the remaining ten are practical illustrations of the extent to which film and video are used as pedagogical tools. In the book preface, Nikos Theodosakis, author of 'The Director in the Classroom', writes that the book contributors 'have built a wonderful bridge for us to travel over'. In fact, the book chapters transcend age restrictions to include diverse age groups, children and young adults. The topics range from learning language and philosophy to learning about one's self, one's environment, and one's cultural identity. Much more importantly, the book addresses regular and special learners' needs. Arts in general, and films in particular, are shown to display salient and dynamic roles in appealing to a wide variety of regular and special needs learners. In short, the presentation unveils a recent learning methodology by showcasing the works of a number of authoritative figures in the growing field of edutainment.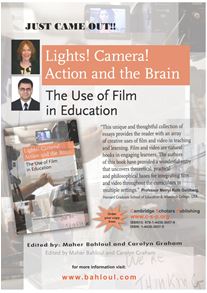 ---
Abstract (2)
Creating Media Projects that Matter
Presenter: Nikos Theodosakis
In classrooms around the world, today's media technologies enhance our students' learning experience by providing rich, engaging and entertaining tools for exploration. But perhaps one of the greatest opportunities media creation in the classroom provides is in transforming not just how we learn, but why. Beyond merely integrating media production as another tool for content learning and skill development, Nikos champions media projects that enable students to explore and create authentic connections to their world, their community, their family and ultimately, to themselves. He believes that when learning is about the real world, and when students see their ability to impact on that world, then we elevate our children from being students learning in a classroom to citizens participating in their world. Examples of student projects will be presented including Nikos' own Preserving Your Culture video project which enables students to create community stories that preserve living history while at same time create archives of student produced resources to be used by future generations of learners, and his InStill life project which incorporates media production and visual arts in a project which has enabled thousands of elementary school students in Canada to micro loan to farmers around the world, in a sustainable, authentic, global, curriculum integrated project. Believing that students want their learning and their lives to have significance, Nikos examines how thoughtfully produced classroom media projects can matter to students, teachers and their communities and then provides some gentle and practical ideas on how we can bring such projects to life.